Steve Bertrand Director.
Picture a 35-year-old guy with a well-stocked trophy rack earned from street class drag racing competitions.
Picture living in beautiful Victoria BC from a very young age and not being able to go anywhere, and I mean anywhere, without bumping into a friend or making a new one.
Now picture being able to accomplish all of that, and much more, while being in a wheelchair.
Steve was born 3 months premature and weighed only 2 lbs 7 ounces, causing him to have Cerebral Palsy.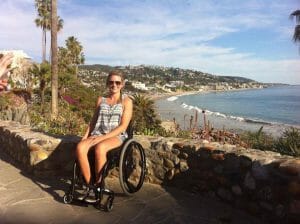 Tanelle Bolt -Lead Assessor
On Sunday, August 10th 2014 Tanelle travelled to Port  Renfrew to swim and enjoy a day in the sunshine. While there, Tanelle decided to join her friends who were swimming and jumping off a high bridge into the Gordan river, near Avatar Grove. However, despite being an accomplished swimmer and athlete, the impact of the water combined with the speed at which she was travelling caused Tanelle to severely break her T6 thoracic vertebrae. Tanelle was quickly air-evacuated to Vancouver General Hospital where she underwent immediate surgery.
Sadly, despite being able to repair some of the damage to her back, Tanelle suffered significant and severe spinal cord damage and was given the likely prognosis of life in a wheelchair.